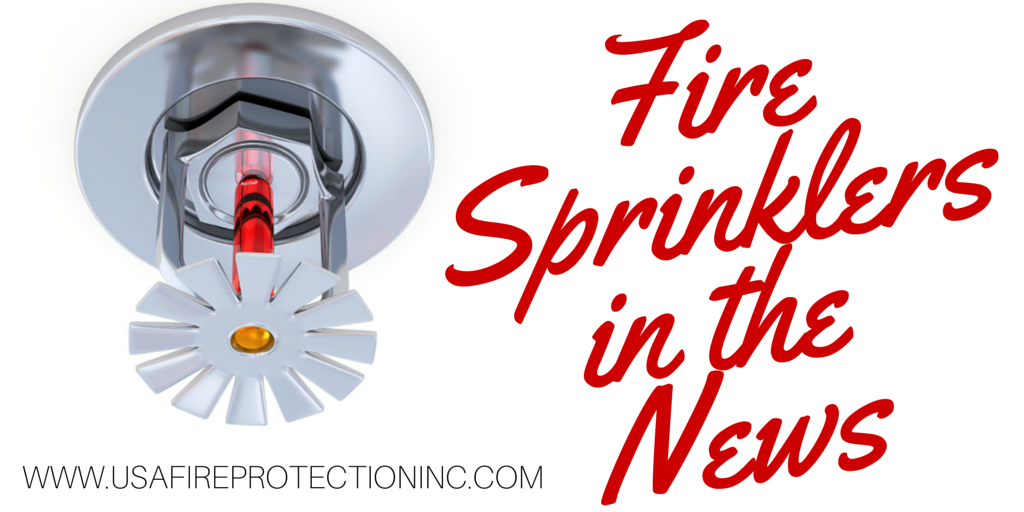 Only five weeks into the new year and an estimated 347 people have already lost their lives to fires in the United States. What's the common theme in many of these tragedies? No Sprinklers. According to FEMA, having an automatic fire sprinkler system installed reduces the risk of dying in a home fire by nearly 70%. This week we're taking a look at two sprinkler-related stories ripped from the headlines over the past month.
Annapolis Mansion Fire

:
Perhaps one of the most devastating fire-related tragedies in recent news occurred in the early hours of January 19th. Don and Sandra Pyle's 16,000-square-foot home burned to the ground. An electrical failure on the first floor sent a spark to a Christmas tree still remaining from the holidays. As a result, four children all under 10 years old, and the Pyle's passed away. The tragedy has brought the issue of residential fire sprinklers to the forefront. Legislation requires sprinklers in all new homes in that county. Unfortunately, the mansion was built in 2005 and the law came after. Fire safety officials and experts say that sprinklers could have saved them.
"Information on fire protection detection and suppression systems needs to be better explained to the public, whether these systems are required by law or not. As remarked at the recent Anne Arundel County Fire Department news conference regarding the tragic fire, sprinklers would have most likely made the difference." -Retired Anne Arundel County Fire chief and former fire program specialist for U.S. Department of Homeland Security (source)

"When they are building these multimillion dollar houses, they spend more money in furnishings and indoor basketball courts than they would on the sprinklers. They have the typical mentality of 'I won't have a fire in my house.' We are trying to raise awareness about sprinkler systems." -Cornelius Deputy Chief Guerry Barbee (source)
Edgewater Avalon Apartment Fire

:
 AvalonBay Communities Inc. has many lawsuits filled against them in regards to the catastrophic fire that ripped through its luxury Edgewater, New Jersey apartment complex. More than 1,000 residents from 408 units evacuated. 240 units were now unlivable. So, this left about 500 residents permanently displaced. Sprinklers were installed before the fire, and the building was up to code. However, the living areas had sprinklers, but the walls and ceilings did not. Also, the buildings lightweight wood construction is being blamed for the severity of the blaze. Thanks to the fire sprinklers, Edgewater did not have any deaths. To learn more about the fire risks of lightweight wood construction, click here.
What do you think of these stories? Tweet us @USAFP To learn more visit us at the USAFP website.