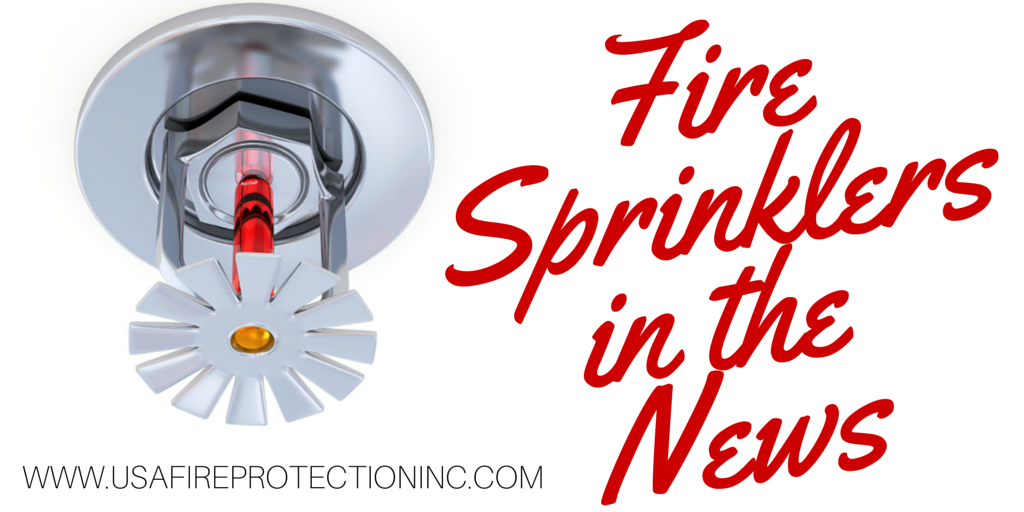 Only three months into 2015 and an estimated 622 people have already tragically lost their lives to fires in the United States alone (according to the United States Fire Administration). In this week's "Fire Sprinklers in the News," we're taking a look at two more sprinkler-related stories.
Fire Sprinklers Save Teenage Girl

:


On February 16, a fire broke out in the two-car garage of a home in Derry, New Hampshire. Firefighters arrived on the scene to see the two car garage completely engulfed in flames and quickly spreading to the rest of the house. A 14- year-old girl could not escape the house. One of the exits was entirely blocked by snow, leaving her only option to scramble upstairs and exit through the home's front door. Fortunately, the home has an automatic fire sprinkler system. Also, fire fighters claimed that the sprinklers are the reason the teen is alive today.
Update on Edgewater Fire

:

Last month, we told you about the massive Edgewater, NJ fire that quickly tore through the Avalon luxury apartment complex—burning 240 of the 408 units to the ground. The building's sprinkler provided enough time for residents to escape without injury. After the blaze, legislation passed a bill to require sprinklers in all New Jersey homes. The bill, known as the "New Home Fire Safety Act". This bill requires certificates of occupancy to be issued to new homes until a code enforcement agency determines that the home has a fire suppression system.  Since approval in June, the bill did not move. After the Edgewater tragedy, the bill is moving faster. Now it is at the budget committee before the final vote in full Senate. Fingers crossed!

Once again, we want to remind you that fires can happen to anyone, at anytime. Having an automatic fire sprinkler system installed is like having a firefighter protecting you 24 hours a day, 7 days a week.

Have questions or want more info? Visit us at the USAFP website.  Call us at 847-816-0050 or tweet us @USAFP.