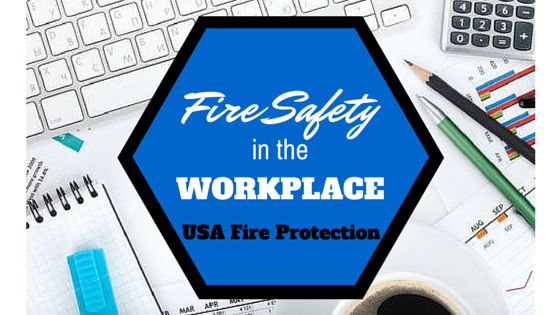 As we know all too well, fires can happen anywhere at any time. For this reason, it's crucial to prepare no matter where you are. Most adults spend most of the day at work. Office environments are especially at risk for fires, because of the number of flammable materials and electronics.
If a fire broke out in your office, would you know what to do? Here's a list of workplace fire safety tips from your friends at USA Fire Protection.
◾ First, make sure your emergency action plan is regularly updated. For example, have a predetermined escape route and meeting place outside the building. More importantly, exits are marked, and doors are unobstructed at all times.
◾Keep office equipment (like printers and fax machines) regularly serviced and repaired. As a resolute, this prevents overheating/malfunctions that can lead to a potential fire.
◾Do not overload electrical outlets or use wires that appear to be damaged or frayed.
◾Keep all unused equipment unplugged. Also, designate one person in the office to unplug all appliances at the end of each workday.
◾Train employees in kitchen fire safety. Be sure to monitor cooking with heat at all times.
◾For small fires, appropriate fire extinguishers should be available. So, employees should attend training on how to use extinguishers.
◾As always, the office should have life-saving fire sprinklers–that can put out a fire in a matter of minutes and prevent injuries.
Do you have any other workplace fire safety tips? Tweet us @USAFire or comment on Facebook.
To learn more about the commercial services that USAFP provided check us out here.