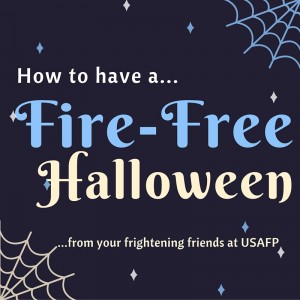 BOO! Halloween snuck up on us this year! With only one week left until the festivities begin, USAFP is here to provide you with some Halloween Fire Safety tips to keep in mind in order to have fun while staying safe!
Carving pumpkins?

Instead of candles, use glow sticks or battery-operated candles in jack-o-lanterns. If you do decide to use real flames, make sure they are attended at all times. Also, make sure kids/pets stay a safe distance away.

Attending a Halloween party?

Make sure you look for at least two potential escape routes for a quick exit. Also, make sure all exits are clear of decorations or tripping hazards.

Dressing up?

When purchasing costumes and accessories, look for ones labeled "flame-resistant" or "flame-retardant." If you are making your own costume, try to choose materials and fabrics that won't easily ignite if they happen to come close to an open flame.
Send us photos of the best costumes and you may be featured on our Twitter @USAFP or on our Facebook page!
P.S. We especially love firefighter costumes!