Last night USA Fire Protection employees from Wisconsin and Illinois gathered at Grand Geneva Resort in Lake Geneva, WI to celebrate the 30th Annual Burn Center Golf Invitational (BCGI).  The charitable event benefits Ascension Columbia St. Mary's Regional Burn Center, AFS Summer Camp for Burn-injured Youth, Newspapers In Education, and other fire safety and burn prevention programs run by the Professional Fire Fighters of Wisconsin Charitable Foundation.
USA Fire Protection sponsors the event at a Platinum level and we are in good company – APi Group, Gregg Huennekens, and Reliable Automatic Sprinkler also sponsor at this level.  We are proud to be supporters of such a special event.  Steve Sferra, Marnie Klein, and Jenna Jordan also serve on the BCGI Planning Committee to make sure the event goes off without a hitch for the roughly 200 guests who attend each year.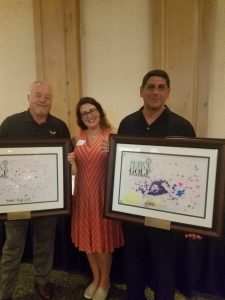 This year's sponsors were gifted with some sentimental artwork that Wisconsin's Burn Camp campers worked on during the camp week to show their appreciation for the support they receive from the BCGI.
We would also like to congratulate Doctor Tom Schneider – or 'Doc' to those who know him well – who received the prestigious Ray Malek award for his investment in fire and burn safety.  Doc spent decades treating burn patients at Columbia St. Mary's Hospital as well as serving as one of the founders and first volunteers of Wisconsin's Summer Camp for Burn Injured Youth.  He has made an immense contribution to the burn survivor community and is very deserving of this recognition.
Thank you to all those who help make this a success every year!