Chicago Bears Launch New Season from the Renovated Halas Hall with Fire Protection Systems from USAFP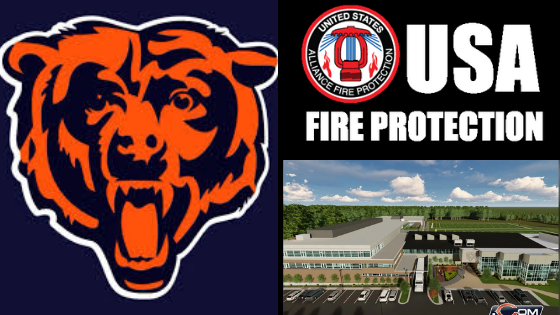 Our team at USA Fire Protection was selected to ensure that the Chicago Bears team and staff are protected while working. USAFP provided fire protection to the four-floor addition along with renovations to the existing first and second floors. This project consisted of installing two new standpipes and a new fire pump. USA Fire Protection also provided seven wet systems and one dry system with a nitrogen generator and over 1,800 sprinklers. The facility was completed in six phases because of the large size of the facility and to minimize the disruption of the renovations. One year later the project reached completion.
Football season will be in full swing starting on September 5th when the Chicago Bears take on the Green Bay Packers. Will the 2019-2020 season reach expectations for the Chicago Bears? Only time will tell, but we do know that the Bears are set up for success. The Chicago Bears practice facility and headquarters, Halas Hall, received updates.  The updates are additions to the locker rooms, weight rooms, and sports medicine space.
To commemorate the start of the season, we are celebrating with an NFL jersey day in the offices. We respect and enjoy the fun rivalry between our Wisconsin and Illinois employees, so may the best team win. For a look at the newly renovated Halas Hall, click here.