Fire Prevention Week 2019
This year the Fire Prevention Week slogan is, "Not Every Hero Wears a Cape. Plan and Practice Your Escape!" The focus is on home fire escape planning, for faster and safer escapes. Once a person is no longer school aged, they often do not practice fire prevention. A goal of Fire Prevention Week 2019 is to educate all people young and old on the importance of fire safety. Learning and practicing fire prevention can help keep yourself and those around you safe.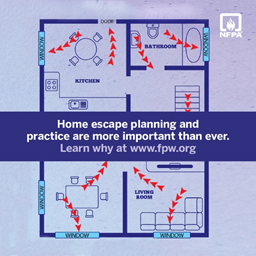 Planning your fire escape is beneficial because once the fire alarm goes off you only have one to two minutes to escape. It is important to start planning your escape route now, because once the fire alarm sounds it is too late to plan. Once your escape plan is finished it is important to practice in order to maximize your escape time. Establishing a meeting place after the escape will help make sure everyone is accounted for
Watch the video from the NFPA and visit the website for more information on fire prevention week and more ways to keep yourself and your community safe.
USA Fire Protection takes pride in providing fire safety solutions for any project. Contact us at 847-816-0050, or visit our website here.