Municipalities' fire codes are changing. Is yours one of them? USAFP can help you stay up to date.
Many municipalities across Illinois have updated or adopted a new fire code. More than 100 municipalities across Northeast Illinois require fire sprinklers in residential homes, with a few new additions this year.
How does a fire protection district differ from a governing city or village?
When a fire protection district adopts a new code, the code only applies to the portions of the district that are not already governed by the village or city limits that it serves. In many cases, this encompasses the unincorporated areas within a fire protection district's boundaries.
Check out the map below to see if you are building in one of the municipalities adopting new changes.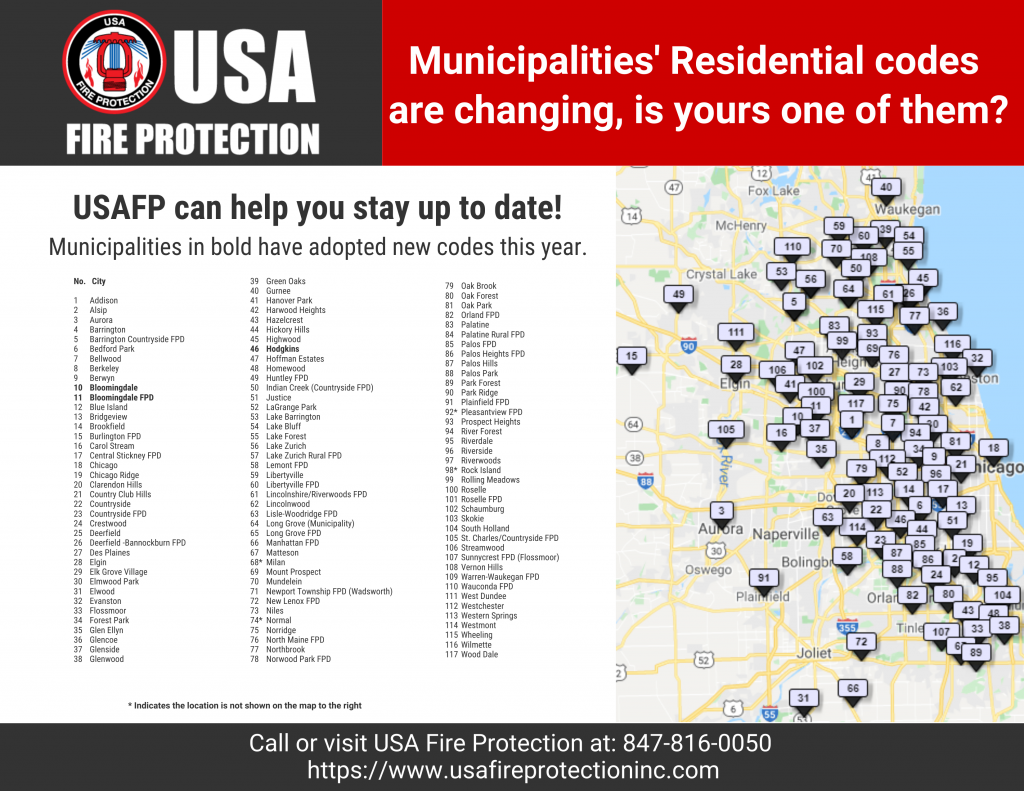 Currently the Village of Hodgkins building code does not require residential fire sprinklers. Instead, they choose to implement a grant program. This program is designed to cover 50% of the cost of a new or retrofitted sprinkler system. Additionally, should you need to increase the size of your incoming water supply to accommodate the new sprinkler system, that could be covered at 100%.
Need help navigating the municipality code changes and requirements for your next build? – USAFP can help make sure your install meets all the latest fire protection requirements. Call our residential team today at 847-816-0050 or visit our website.
Above all, at USA Fire Protection, people are our greatest assets, and fire and life safety is our greatest priority. Wherever you are, you should know how to stay safe with our relevant safety tips. The USA Fire Protection team is passionate about the work we do. We protect lives and property 24/7. The fire sprinkler system is one of the most effective fire prevention systems. An efficient automatic fire sprinkler system can save lives and property. This is because these systems react very quickly reducing the effect of heat, flames, and smoke. Home sprinkler systems are smart and precise. Most importantly, this is one of the reasons why so many governments and businesses have been relying on them. To learn more, check out our other blog and blog categories.