717 South Clark Street, Chicago: The Imprint Apartments
This 31- story apartment building located in Chicago's booming south loop is one of Chicago's newest luxury living communities. Built on the foundation of a historic printing house, these apartments mix modern architecture with rustic designs. This 264,295 sq. ft. facility, named from its roots, The Imprint Apartments, consists of 349 apartments.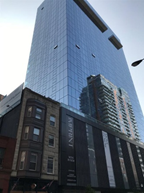 USA Fire Protection provided the fire and life safety systems for this building. This project was a combination of a new high rise and an existing renovation to the printing house foundation.  USAFP equipped this location with over 4,000 sprinkler heads. The incoming water is located in the existing building. That water is used to supply the fire pump to bring water to the new high rise and the existing building's fire protection systems. Although the existing building had fire protection, many revisions were required to bring it up to current code. For example, adding new standpipes. Many units are still available to rent or buy, or if you just want to sneak a peek at the interior, check out the virtual tour.
In addition, visit the USA Fire Protection project page to check out other completed projects, and learn more about the fire safety systems we offer.
Do you have any upcoming projects? Click here to receive your free quote, or call 847-816-0050 for service.