Tamarisk NorthShore Apartments
The Deerfield Senior Residence, now known as Tamarisk NorthShore Apartments, is a 65 and older active adult living community. This vibrant community is located off Lake Cook Road in Deerfield, Illinois. With many amenities, daily activities, and an elegant facility, Tamarisk NorthShore offers residents a convenient and easy-going lifestyle. USA Fire Protection was chosen to provide the fire, and life safety solutions to this location, allowing residents and visitors the peace of mind to enjoy various restaurants, salons, pool, and much more this location has to offer.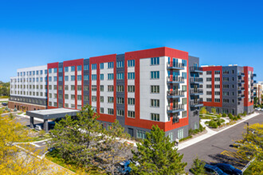 Our team installed over 4,400 sprinklers into this 352,385 square foot facility. 250,376 square feet consists of independent living spaces, which required wet systems for 240 apartments within six stories. Additionally, USAFP provided five standpipes that connect to the first-floor pump room. A dry system covers the remaining 45,328 square feet of enclosed garage space suitable for 115 vehicles. USAFP successfully completed the project ahead of the schedule-timeline and maintained a presence on the project while collaborating with the other trades.
Visit the USA Fire Protection project page to check out other completed projects, and learn more about the fire safety systems we offer.
Do you have any upcoming projects? Click here to receive your free quote, or call 847-816-0050 for service.