Costumes, Pumpkins, & Fire Safety… OH MY!
Halloween Fire Safety Guide
Halloween is a time for sweets, scares, and fun, but do you know how to stay safe? Each year on average, 780 house fires begin from Halloween decorations. More than two of every five Halloween house fires occurred because decorations were placed too close to a heat source, such as a candle, or jack-o-lantern. The fires are estimated to have caused an average of 41 civilian injuries and $13 million in direct property damage per year. These fires are preventable if you follow the Halloween fire safety tips in the below infographic. For more information visit the NFPA website.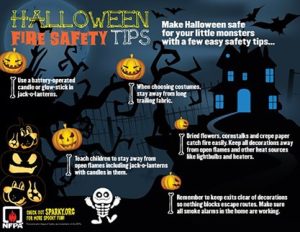 USA Fire Protection wishes you a spooky and safe Halloween filled with fun, not fear. For more information on how USA Fire Protection can keep you safe with the fire protection systems we provide, visit us here.
Additionally, USAFP will prepare you with our fire and life safety systems. Call if you need to install a new system or need maintenance on an existing system. Reach out to our main office team at 847-816-0050. For projects located in Wisconsin, please call 262-782-3311. Additionally, to learn more about our all-inclusive fire protection solutions and our commitment to keeping you protected, click here.