USA Fire Protection's Cold Weather Checklist

 
Freeze-ups are inevitable, but disasters can be preventable!
When winter approaches cold weather soon follows! Temperatures are dropping quickly, are you prepared for winter? Check out USAFP's cold weather checklist below to see what you can do to prevent a sprinkler system freeze up this season.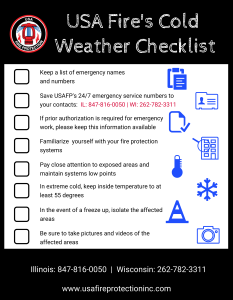 Click on the image above to print or download a PDF version of our cold weather checklist. Furthermore, to learn more about how USA Fire Protection can keep you safe this winter, visit our website.