Serving Up Fire Safety in the Kitchen
Food brings family and friends together, especially around the holidays. As you prepare for all your fun family festivities, it is important to keep kitchen fire safety in mind to keep you and your loved ones safe.
Cooking Can Be Costly
The NFPA reports that U.S. fire departments respond to an average of 172,900 home fires a year involving cooking equipment. These fires cause about 49% of all reported home fires, 42% of home fire injuries, and 20% of home fire deaths. In the United States, Thanksgiving is the peak day for home cooking fires. They account for more than three times the daily average for such incidents. Christmas Day ranks second and Christmas Eve ranks third, both nearing double the daily home cooking fire average.
Kitchen Safety Tips
Despite the risks, home fires involving cooking equipment are easily preventable. Use the tips below to learn how to cook with caution.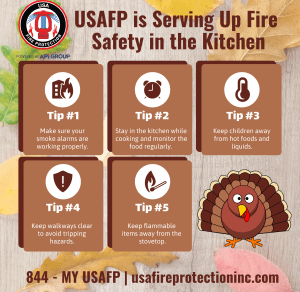 By taking a few simple steps to prepare for the busy holiday season you can enjoy all the holiday festivities without facing the damaging costs. To learn more about fire safety in your home, feel free to contact us by phone (844-MYUSAFP) or online at www.usafireprotectioninc.com.
Ready to receive a free quote? Click here!