Keep the Wreath Red
Many fire departments participate in the "Keep the Wreath Red" tradition during the holiday season. The program was launched in 1980 by the Illinois Fire Chiefs Association aimed at increasing the awareness of safety while decorating your homes for the holidays. According to the NFPA, "holiday lights and other decorative lighting were involved with an approximate average of 160 home fires per year, which resulted in nine civilian deaths, 13 civilian injuries, and $9 million in property damage per year." The "Keep the Wreath Red" campaign strives to reduce those numbers.
Starting on Thanksgiving, participating fire departments will display a wreath with red lights. Should the department respond to a structure fire determined to be the result of a holiday decoration, one red bulb will be replaced with a white bulb. The goal is to keep the wreath red throughout the holiday season. The wreath acts as a reminder to practice safety while displaying holiday décor.
Community awareness is another goal of the campaign. Fire departments encourage safe decoration practices such as: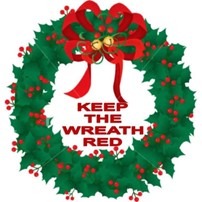 Check the condition of lights and cords. Frayed or cracked cords should be thrown away.
Frequently water live trees. Dry Trees are more likely to catch fire.
Use extreme caution with candles. Extinguish candles when leaving the room.
Make sure your fireplace is in working order before use.
Check smoke detectors every 6 months and replace batteries when necessary.
Fire Sprinklers are always your best defense when it comes to structure fires. They release water at the first sign of fire allowing for a safe escape and minimal damage to your property. For more information on how you can start protecting your property, click or call USAFP at 844- MY USAFP.