Fire Prevention Week 2023
On October 8th, 1871, the Great Chicago Fire broke out, wreaking havoc on the city. The two-day blaze killed over 250 people, left 100,000 homeless, destroyed more than 17,400 structures, and burned over 2,000 acres of land. 152 years later, Chicago still remembers the horrific damage the fire left behind. In commemoration of this tragedy, the NFPA has sponsored the public observance of Fire Prevention Week, observed every year during the week of October 9th.
Fire Prevention Week allows us to dedicate time to spread the word about fire prevention, detection, protection, and suppression. This year's campaign, "Cooking safety starts with YOU. Pay attention to fire prevention," aims to spread the word about cooking safety. This message comes at the perfect time as we begin to enter the holiday season. We all know that food brings family and friends together, but only if it stays fire-free. Be sure to engage with these fire safety activities to help you prepare for your festivities.
Monday
Start the week off right with this fire safety song! This catchy tune will set the tone for the rest of the fun activities to come.
Tuesday
Fire departments and other organizations are hosting burn demonstrations across Illinois during the month of October. Click here to find a burn demonstration near you!
Wednesday
Kitchen fire safety is important at home, work or on the go! For residential kitchen fire safety tips, click here. For restaurant fire safety tips, click here.
Thursday
Having a fire escape plan and practicing it are both crucial steps to keep yourself and those around you safe in case a fire breaks out. Watch this video with your family and create your own fire escape plan using this template.
Friday
Practice makes perfect, especially when it comes to your fire escape plan. Be sure to set up a quarterly schedule to review and practice your evacuation plan at home and in the workplace.
Saturday
Don't let the fun (and safety) stop here! Use these fire prevention games and activities any time of the year!
Feel free to print out this learning map to follow our daily schedule!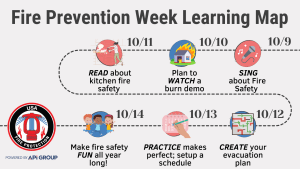 To learn more about fire safety, visit our website, or reach out to our team at 844-MYUSAFP (698-7237). We are more than happy to assist with your fire and life safety system planning and scheduling.
Ready to receive a free quote? Click here!